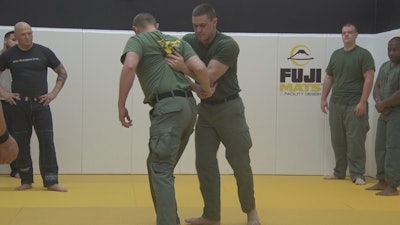 Retired mixed martial arts fighter Jorge Gurgel has some experience "taking care of business" in the octagon, with a combined record of 14-10 in the UFC, Strikeforce, and Titan Fighting.
Now he is trying to help police officers with the Lewisburg (WV) Police Department remain safe on the streets.
Born in Brazil and now a United States Citizen, Gurgel says he is proud to help police officers in dynamic situations by providing them with some training in his own skills learned in the gym.
"I really believe they are the true heroes," Gurgel told WVNS-TV .
"Every time they pull somebody over, every time you knock on somebody's door is a surprise for them. So it's my absolute pleasure to be able to pay it forward and to give the Lewisburg Police Department an [insight] on how to protect themselves a little bit better."