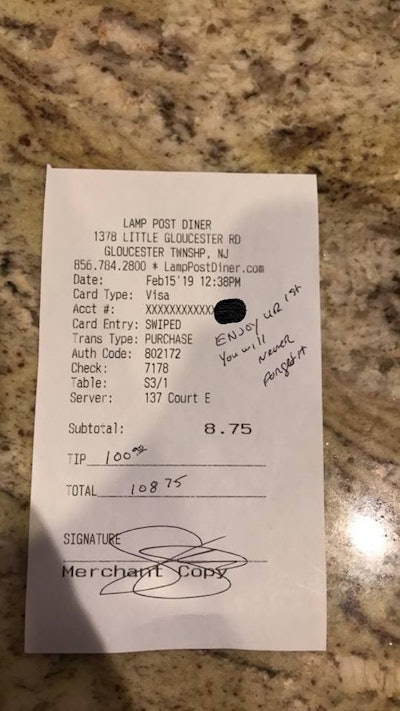 An officer who stopped for lunch at the Lamp Post Diner in Gloucester Township on Friday left behind more than a lasting impression on the food server who tended to his table. He left the woman—seven months pregnant but still working to save money for her new arrival—a $100 gratuity and the gift of a touching note for her.
According to Fox News, the young woman's father—Brian Cadigan—posted an image of the receipt on Facebook, thanking the anonymous Voorhees Township police officer for his kindness.
"He was pleasant, and had his lunch by himself, and asked for the check," Cadigan wrote. "My daughter gave him his check, and moved on to wait other tables, the officer went to the cashier and paid his bill, and left a note on the bill for my Daughter, this officer, who I am sure works his butt off for his paycheck left her a $100 tip on a $9.00 ticket and the note simply said, 'Enjoy your first, You will never forget it'."
Cadigan concluded his post, "What a wonderful person to not only leave a VERY generous tip, but a lovely message, I don't know you Mr. Police Officer, but you made my little girl cry, and made her year. Thank you, I always had the utmost respect for Officers, but you went above and beyond not just an officer, but a beautiful human being. God Bless."