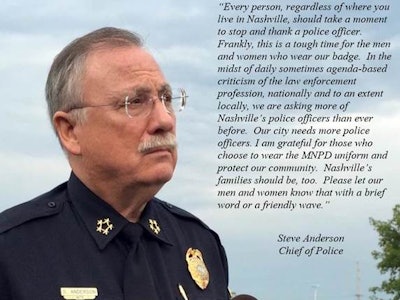 The chief of the Nashville Metro Police Department took to Twitter late last week to plead for citizens to thank a police officer, appreciate the difficulty of their jobs, and understand that despite being fewer in numbers officers are being asked to do more and more every day.
Chief Steve Anderson said, "Every person, regardless of where you live in Nashville should take a moment to stop and thank a police officer. Frankly, this is a tough time for the men and women who wear our badge. In the midst of daily sometimes agenda-based criticism of the law enforcement profession, nationally and to an extent locally, we are asking more of Nashville's police officers than ever before."
The chief's comments came following news reports that 14 of the 17 officers to have left the Nashville Police Department in the first weeks of 2019 were eligible to take their pension.
The head of the Fraternal Order of Police, James Smallwood, told WTVF-TV that morale is at an all-time low.
"We were absolutely stunned by the number of folks that were leaving in January," Smallwood said.
Chief Steve Anderson said on Twitter, "Our city needs more police officers."