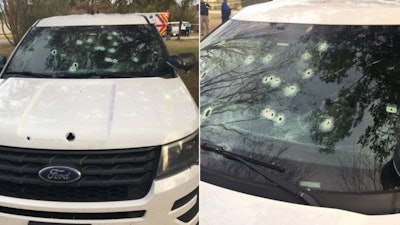 Berkeley County, SC, sheriff's deputies and other South Carolina law enforcement officers engaged a suspect Tuesday afternoon in what is being described as a 30-minute-long gun battle. The suspect, identified as Joseph Hart, was killed in the fight. No officers were injured.
The Berkeley County SO reports on Facebook:
Just before 3:30 p.m., a Deputy responded to Waterfowl Lane for a report of a disturbance between neighbors. At this time, investigators believe the disturbance was regarding a speeding issue in the neighborhood.
When the Deputy arrived on scene, he observed the suspect's vehicle speeding in the roadway and attempted to stop the vehicle. At that point, the driver took cover, pulled out a gun and started firing a weapon at the Deputy.
The Deputy was pinned behind his vehicle for approximately 30 minutes as the suspect shot at him. Multiple law enforcement agencies attempted to set up a perimeter to assist the Deputy in getting away from the scene, but the suspect continued to fire multiple rounds at the law enforcement officers.
At one point in the incident, the suspect said he was going to surrender to law enforcement. When deputies got close, the suspect fired again.
The suspect was shot and killed.
All law enforcement officers that were on scene are unharmed.
The Berkeley County Sheriff's Office would like to thank the Moncks Corner Police Department, Charleston County Sheriff's Office, Goose Creek Police Department, South Carolina DNR, South Carolina Highway Patrol, Federal Bureau of Investigation, Mount Pleasant Police Department and the South Carolina Law Enforcement Division for their assistance during the incident.