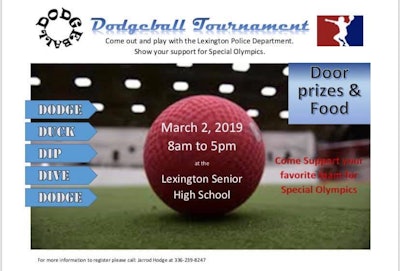 Officers with the Lexington (NC) Police Department are expected to come under withering fire on Saturday afternoon—in a hail of dodgeballs hurled at them in the name of charity.
According to Davidson Dispatch, the event—scheduled for Saturday—will benefit Special Olympics of North Carolina.
Admission will be free, but the department is asking for donations.
The event is the result of one officer having had the experience of watching a dodgeball completion on television and bringing the idea to one of the officers in charge of the department's Special Olympics fundraising events.
Seven teams comprised of members of Davidson County law enforcement, fire and emergency services departments, will participate. Two teams from the Lexington Police Department, a team from the Thomasville Police Department, one from the Lexington Fire Department, one from the Thomasville Fire Department, one from Davidson County EMS and another from the South Lexington Fire Department will face off in an all-day double elimination dodgeball tournament.