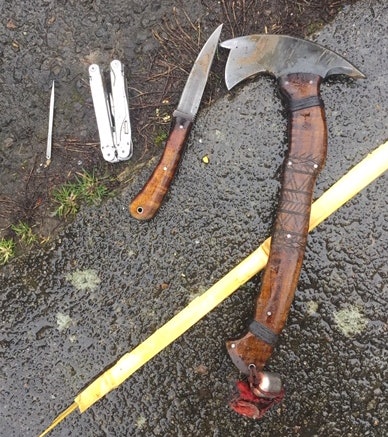 On Wednesday, officers with the Portland (OR) Police Department were called to investigate reports of a man armed with several edged weapons behaving erratically near a middle school.
The school was put on lockdown as police responded. Arriving officers found the agitated man who appeared to be armed with a hatchet and a knife.
The department issued a statement saying that officers "gave direction to the male, who threw the hatchet and knife down, then charged at the officers. The male was arrested and during the arrest, he stabbed a Sergeant with a smaller knife that was concealed in his hand. The Sergeant sustained a non-life threatening injury to the hand. Two knives, a hatchet, and a multi-tool were seized."
The subject appeared to be under the influence of an unknown substance. He was not injured, but was taken to an area hospital for evaluation due to his intoxication.
The sergeant—who has not been identified—was treated and released for the non-life-threatening injury.