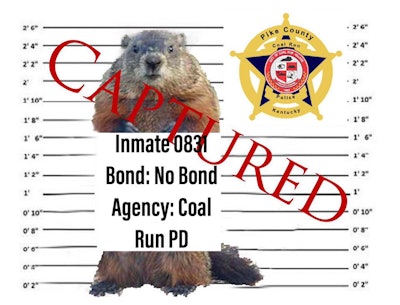 Officials in Kentucky have pretty much had their fill of winter weather—particularly in light of the fact that a certain well-known marmot from Pennsylvania promised an early spring.
Andrew Scott—the Mayor of Coal Run (KY)—said on Facebook, "This morning, in consultation with the City Attorney and Chief of Police, I ordered the immediate arrest of Punxsutawney Phil for violation of Kentucky Revised Statutes, Chapters 194A and 523. Specifically, the warrant alleges Fraud and Unsworn Falsification. After a multi-jurisdictional search, I am pleased tonight to announce that this lying, furry rodent has been apprehended and remanded to the custody of Pike County Detention Center."
The humorous post was similar to one in early February by the McLean (IL) Police Department in which the agency posted their thanks for the "arrest" of "Elsa"—the Disney character in the movie "Frozen"—by an agency in South Carolina.
Weather in many places across the United States during December, January, February, and early March has been particularly brutal, particularly during what was known as the "Polar Vortex."
Mayor Scott said that Punxsutawney Phil "will remain lodged until the weather improves and temperatures begin to rise throughout our region. It is unclear whether the defendant has an attorney at this time."