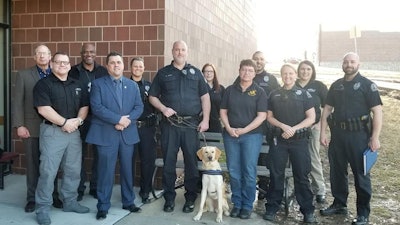 The Independence (MO) Police Department welcomed to its ranks a 2-year-old golden retriever/border collie mix as their first ever certified therapy dog.
According to KMBZ Radio, K-9 "Josie" was donated by a non-profit called K9s For Freedom & Independence and is a trained PTSD therapy dog.
The department said on Facebook, "Our therapy dog's purpose is to help improve the psychological well-being of our employees at the police department. The therapy dog will be assigned to our Peer Support Team and will reside with one of the team's members."
The department added that the dog will accompany the assigned officer during his regular tour of duty at work.
"We are excited for this new addition to our police family and hope Josie can help us all better cope with the various stresses of the job," the agency said.