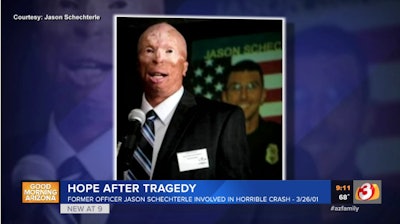 Tuesday marked 18 years since former Phoenix officer Jason Schechterle's police cruiser was rear-ended, burst into flames, and caused disfiguring burns to his head, face, and hands.
Over the years, he has shared his story in front of many crowds, with uplifting messages of survival and hope, and becoming one of the Valley's most accomplished motivational speakers.
Today, Schechterle's second career involves working as a spokesperson for Serenity Hospice and Palliative Care in Phoenix
"At heart I have always wanted to serve people, to make their lives better. That's what made me become a police officer - I wanted to lock up bad guys and keep people from danger. The people I've met at Serenity Hospice share that mindset of service. Helping people, serving with real compassion, that's a true calling for hospice workers. Their compassion and strength moved me and made me want to be a part of the team, Schechterle told AZ Family.