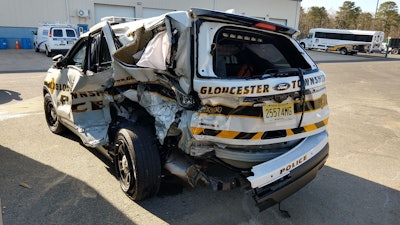 An officer with the Gloucester Township (NJ) Police Department suffered minor injuries when the patrol vehicle he was sitting in was struck by a suspected DUI driver.
The agency posted details about the incident—which occurred just after midnight—on its Facebook page, alongside several images of the damaged vehicle.
"While assisting with traffic control, an occupied marked Gloucester Township Police vehicle was struck in the rear by a vehicle," the agency said.
"The police vehicle was stationary with its emergency lights activated. A Gloucester Township Police Officer was in the driver's seat of the police vehicle at the time of the impact. The police vehicle sustained heavy damage, and the Officer was transported to Cooper Hospital in Camden," the post continued.
The officer—who has not been identified—is being treated for minor injuries.
"The officer was wearing his seat belt, and the vehicle was positioned in a way which is believed to have kept the Officer from being seriously injured," the agency said.
The driver—identified as 44-year-old Gary McFadden—is charged with suspicion of DUI, possession of a controlled dangerous substance, possession of drug paraphernalia and assault by auto.