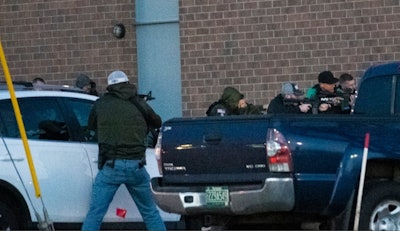 Three people are dead after a 15-hour standoff at a hotel in Manchester ended with a suspect opening fire on officers outside, and officers returning fire.
According to the Boston Herald, the gunfire erupted in the late evening on Wednesday and hotel staff evacuated guests as three individuals holed up in one of the rooms.
On several occasions, at least one suspect opened fire at officers outside as crisis negotiators were attempting to communicate with the individuals inside.
Then, one suspect—identified as 51-year-old Stephen Marshall—emerged from the room through a window and opened fire on officers.
Marshal was struck, and then transported to a nearby hospital where he was pronounced dead.
The two other subjects were found dead in the room shortly thereafter. Those individuals have not yet been identified, nor has their cause of death been released.
Officers from Manchester PD, DEA, New Hampshire State Police, and Nashua Police Department had responded to the incident. No officers were reported to be injured.