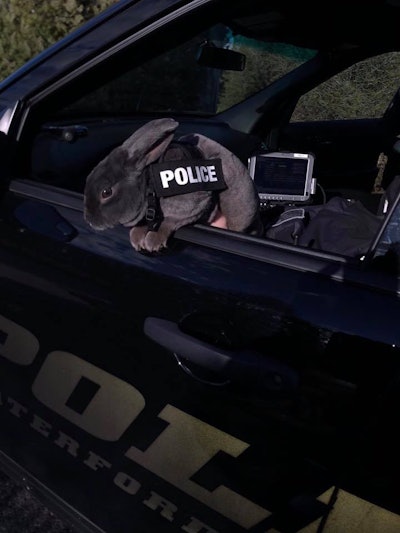 A New Jersey police department had some "April Fool's" fun with its citizens on Facebook on Monday, posting pictures of "Thumper"—the newest member of the agency's drug detection detail.
The Waterford Township (NJ) Police Department posted to Facebook, "Waterford Police Department has deployed a new high tech crime fighting tool in preparation for the future possibility of Marijuana legalization in NJ. Meet our newest addition (Thumper), our drug sniffing rabbit. He is able to hop right into vehicles and find drugs quickly."
The agency said that the fluffy little long-eared herbivore—an animal that feeds mostly on grass—can get into tight spaces the department's K-9 cannot.
"Rabbits have been proven to be a very successful tool in the fight against drugs with other law enforcement agencies so we decided to try it out," the post read.