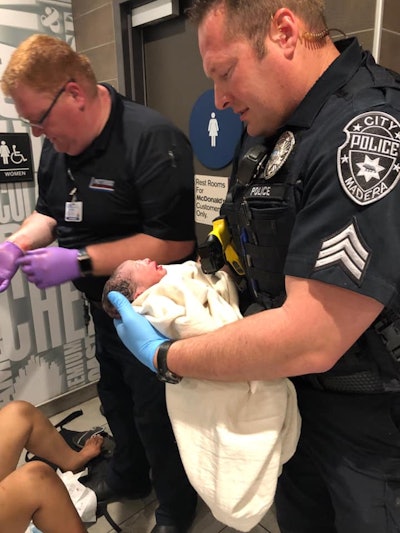 Officers with the Madera (CA) Police Department responded—alongside paramedics from Pistoresi Ambulance—to a woman who had begun childbirth at a local McDonald's restaurant last week.
According to the Fresno Bee, when the responders arrived, they quickly determined that the baby was imminently due, and that transport to a nearby hospital was not an option.
The agency posted to Facebook, "Last night, officers responded to McDonalds regarding a woman who was in active labor. Officers arrived along with paramedics from Pistoresi Ambulance and located the mother in the lobby. There was no time to transport the mother as the baby was being delivered. The great paramedics delivered a healthy baby boy. The mother and the baby were transported to the hospital and they are both doing well."