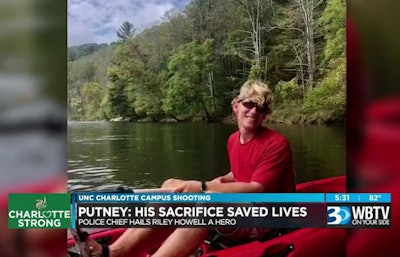 A student killed during the shooting on the campus of UNC-Charlotte Tuesday has been praised by Charlotte-Mecklenburg Police Chief Kerr Putney as a hero.
21-year-old Riley Howell of Waynesville, NC, was in the classroom Tuesday afternoon when a gunman opened fire. Howell jumped on the shooter in an attempt to stop him, according to police.
Howell was shot and killed, but his actions delayed the shooter, giving police more time to respond and fellow students a chance to escape, WBTV reports.
Putney said Howell "did exactly what we train people to do: You're either going to run, you're going to hide and shield, or you're going to take the fight to the assailant. Having no place to run and hide, he did the last."
"His sacrifice saved lives," Putney added.
Suspected shooter Trystan Andrew Terrell, 22, was arrested at the scene and charged with two counts of murder, four counts of attempted murder, four counts of assault with a deadly weapon with intent to kill, possession of firearm on educational property and discharging firearm on educational property.