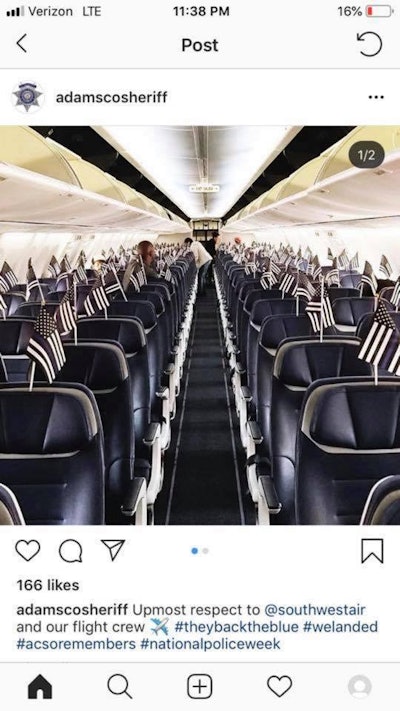 The employees of Southwest Airlines on a flight from Denver to Washington DC went well above and beyond their appointed duties to ensure passengers were comfortable aboard that trip.
In honor of Deputy Sheriff Heath McDonald Gumm of the Adams County (CO) Sheriff's Office—who was shot and killed during a foot pursuit in January 2018—the cabin crew placed Thin Blue Line flags on every passenger seat and re-designated the flight number to Gumm's call sign.
The Castle Rock Police Officers Association posted on Facebook, "Southwest Airlines stepped up to make sure everyone remembered Officer Heath Gumm on the way from Denver to Washington D.C. while his name is put on the Washington memorial. They changed the flight number to his call sign, 1215, and placed flags in each seat to remind EVERYONE of his sacrifice to EACH AND EVERY ONE OF US. Thank you SWA for honoring our fallen heroes who do so much for all of us! Thank you Officer Gumm for paying the ultimate sacrifice for us all!"
The post on Facebook has received nearly 3,000 "likes" and has been shared by more than 2,000 people.