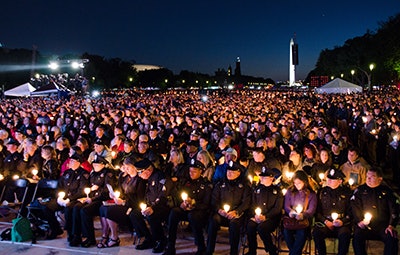 In remarks at the annual Police Week Candlelight Vigil held last night on the National Mall in Washington, DC, U.S. Attorney General William Barr honored the fallen saying the American people need to know that "public safety is bought at a price."
The names of 371 fallen officers were read aloud at the Vigil; 158 of them died in 2018 and 213 died in prior years.
Barr recalled that 28 years ago, serving as Attorney General for President George Herbert Walker Bush, he had attended the groundbreaking ceremonies for the Memorial. Last night he attended the Vigil as Attorney General for Donald Trump.
The Candlelight Vigil—an annual tribute to the nation's law enforcement officers—has become a signature event of the National Police Week observance in the nation's capital, the National Law Enforcement Officers Memorial Fund (NLEOMF) said.
The national monument now contains the names of 21,910 fallen law enforcement officers—from all 50 states, the District of Columbia, U.S. territories, federal, corrections, railroad, and military police agencies—who died in the performance of duty throughout U.S. history. The oldest historical death now engraved on the Memorial is that of Chesterfield County, VA, Sheriff Benjamin Branch whose end of watch was April 29, 1786.
"Tonight we embrace the names of 21,910 fallen heroes and their families who made the ultimate sacrifice so that we could live in safer communities," said Lori Sharpe Day, Interim CEO of NLEOMF. "And we honor the courage of these brave men and women as we formally dedicate their names on the Memorial walls."
An estimated 30,000 people attended the ceremony, including surviving family members, friends, law enforcement colleagues, and police supporters.
For more information, including the names of officers added this year to the National Law Enforcement Officers Memorial, visit www.LawMemorial.org/2019RollCall.