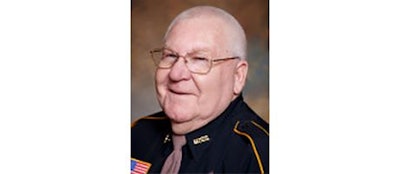 Constable Willie Houston "Hoot" West, 81, died Thursday at North Mississippi Medical Center in Tupelo, three days after his car left the roadway in a turn on Harrison Road and crashed into a tree.
West was on duty doing the job he had been doing for 13 terms as constable, covering a span of almost 52 years, reports the Dispatch.
"He was out working Monday morning," said his son, Mike. "Serving papers."
In the days since West's car accident, the people of District 1, which includes West's lifelong home of Caledonia, awaited word on his condition, filling up Facebook pages with well-wishes, calling his two adult children's cellphones, and offering up prayers for the friendly, familiar West.
"Somebody said it was like Mayberry losing Andy Taylor," Mike said. "I can see why they would think of Dad kind of like that."
West was began his law enforcement career as a deputy with the Lowndes County (MS) Sheriff's Office. He was elected as District 1 constable in November 1967 and was re-elected 12 times. He was seven months short of finishing his 13th term as constable.