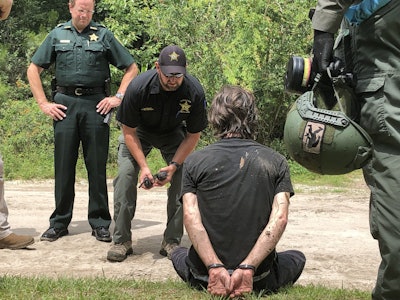 Deputies, officers, and federal law enforcement personnel were able to peacefully end a standoff with an armed, barricaded suspect on Monday in Hawthorne, FL.
The incident—which took place in the quiet hamlet of Hawthorne—began when 47-year-old Matthew Perryman reportedly threatened his mother at her residence.
When deputies arrived, Perryman's mother was outside the residence. She said her son entered her residence and threatened her and her husband with a firearm. Perryman lives at an adjacent property.
The Putnam County Sheriff's Office said on Facebook, "During the discussion, Perryman exited the house and began to approach deputies in the driveway. Deputies attempted to talk to Perryman, but he began walking down the darkened driveway. Due to limited visibility, deputies lost sight of Perryman and he was able to retreat into the residence.
Responders attempted to establish contact with the subject but were initially unsuccessful. The subject subsequently contacted the FBI and told them he was afraid he would be "shot at by police."
SWAT responded to the area and during communication with Perryman, two shots were fired from inside the residence. One bullet exited the house in the direction of deputies and hit a tree.
Deputies deployed two rounds of a non-lethal gas to encourage Perryman to leave the residence. After the second round of gas, Perryman peacefully surrendered. Rescue personnel medically cleared Perryman at the scene and he was taken for a mental health evaluation.