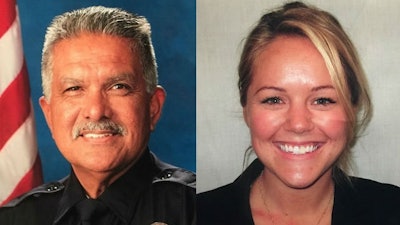 Following weeks of witness testimony and evidence review, a Riverside County, CA, jury took only a few hours to convict John Hernandez Felix of first-degree murder for killing Palm Springs Ppolice Officers Jose "Gil" Vega and Lesley Zerebny.
After hearing painful stories of loss from friends, family and colleagues of the slain officers, the same jury needed just as little time to decide Felix's mortal fate: he should get a death sentence, they announced Thursday, the Desert Sun reports.
The jury's decision is only a recommendation. Judge Anthony Villalobos could deliver a different sentence, but that rarely happens, a spokesman for the Riverside County District Attorney's office said.
Villalobos set the sentencing for Aug. 30.
John Hernandez Felix was convicted of first-degree murder for the shooting deaths of the two officers, the attempted murders of six other officers, and three firearms charges.
Felix opened fire on Oct. 8, 2016, when officers were dispatched to his house in response to a domestic dispute. He fired 21 shots at officers, killing two and injuring several others. Felix was arrested over 12 hours later when SWAT fired teargas into the home where he barricaded himself.
Gov. Gavin Newsom has suspended executions in California.