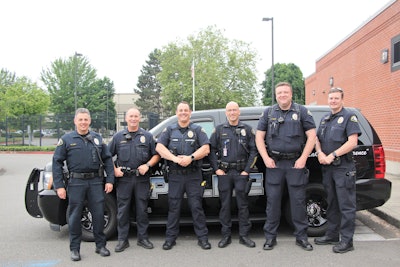 The command staff with the Lakewood (WA) Police Department did a patrol shift on Friday so that officers could have a paid day off.
The personnel substitution was the result of a fitness challenge in which patrol officers were broken up into teams and challenged to work out as much as possible during a two month span.
The team with the highest "minutes worked out" for the two-month period would receive a day off with pay.
The agency posted on Facebook, "As part of this reward, it was agreed that if a patrol shift won, the Command Staff (Lieutenants, Assistant Chief, and Chief) would work their shift for them, thereby enabling them to have their day off. Well, Day Shift Side B won and today is their much anticipated day off. Please allow us to share with you that your Lakewood Police Department Command Staff is out patrolling your streets as we type. (We even took pictures to prove it!) So if you see a patrol car out in your area, make sure you give them a wave—it might just be the Chief himself!"
The post concluded, "And congratulations to Day Shift Side B for their win, and to everyone in the department for their work out efforts- together we logged an impressive 186,925 minutes of work outs and gained some great new habits!"