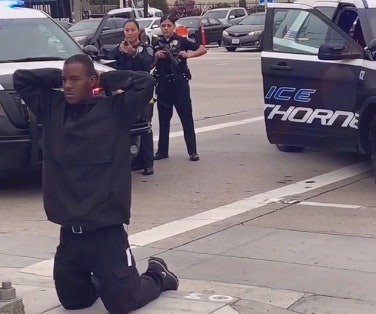 An Instagram Live video of Hawthorne, CA, police officers holding a robbery suspect at gunpoint has raised claims of "excessive force" from the media and social media commenters.
The video of the arrest on Friday June 7 features an emotional response from a woman who was recording it and questioned the officers' actions during the incident. It went viral on social media.
The woman, who is identified as Sky, captured the exchange on Instagram Live.
In the video, she repeatedly asks the man what his name is before claiming that her boyfriend was "also a victim of police brutality."
"Why are your guns pulled on this young man?" she says to the officers in the video. "He has no weapons on him. We live right now."
USA Today published the story under the headline: "A witness protects an unarmed black man from excessive police force in viral video."
The Hawthorne Police Department disagreed with that characterization of the incident in an official statement released Sunday June 9.
According to the Hawthorne PD, an officer was waved down by a group of people outside a gas station. The responding officer was told that a man had assaulted one of the gas station's employees and he was identified by the complainants as a man across the street. One of the people at the gas station had also called 911 to report a robbery by a man who may have been armed.
The Hawthorne officer drove across the street to detain the suspect. When backup arrived the suspect was handcuffed and arrested, police say.
Employees at the gas station also pointed out another man as being involved in the incident. He was in the parking lot of the gas station when he was detained by officers.
Police say the suspects argued with employees at the gas station/convenience store about returning a purchase. The incident reportedly progressed into a strong arm robbery and an assault on a cashier. Another employee was reportedly hit in the face by a trash can thrown by one of the suspects.
Both suspects were arrested at the scene.
The statement from the Hawthorne PD does not mention the civilian video or the spread of the video on the internet.