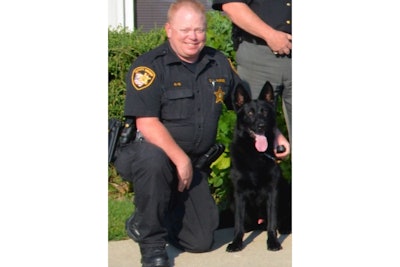 A deputy with the Montgomery County (OH) Sheriff's Office died suddenly on Wednesday, the agency announced on its Facebook page.
The post read, "It is with great sadness and heavy hearts that we inform you of the sudden passing of Deputy Darren Harvey. Deputy Harvey was a highly decorated and dedicated Deputy serving the Montgomery County Sheriff's Office for 19-years."
The post continued, "He started his career with the Sheriff's Office in 1999 as a Court Officer and was promoted to a Deputy Sheriff in 2000. In 2007, Deputy Harvey became a K9 Handler, his passion for 12 years. He served with his K9 Partner(s), K9 Basko and K9 Axel. Deputy Harvey was a Sheriff's Office K9 Trainer, a Trainer for the National Association of Professional Canine Handlers, and a State of Ohio Canine Evaluator."
The post concluded, "Darren Harvey was known for his love of the outdoors, boating, and his passion for serving his community. Deputy Harvey is irreplaceable and our office is devastated with his sudden and unexpected passing. We would like to extend our condolences and prayers to the family and friends of Deputy Darren Harvey."
The cause of death was not disclosed.