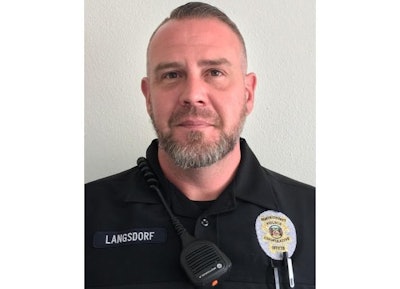 First responders will stand by Officer Michael Langsdorf's casket until he is buried as a way to honor the North County (MO) Police Cooperative officer who was killed Sunday afternoon, reports KMOX.
The suspect in the shooting confessed to killing Langsdorf after trying to cash a bad check at a market in Wellston.
---
Related: Missouri Officer Fatally Shot Responding to a Call at a Food Market
---
At least one officer has been on watch, staying by Langsdorf's side, since his body was transported from the St. Louis County Medical Examiner's Office to the Kriegshauser Mortuary-West Chapel in Olivette Monday. He was escorted by a motorcade of police cars, fire trucks, and ambulances.
Police vehicles from University City, Brentwood, Creve Coeur, and other municipalities in the St. Louis area have been parked outside the funeral home, showing up to be part of the 24-hour watch. As of 7:30 a.m. Tuesday, there were at least three officers with the 40-year-old officer who had 17 years of police experience.
Asst. North County Police Cooperative chief Ron Martin says this is just one way fellow officers are supporting Langsdorf and his family. Other officers have been with Langsdorf's partents, fiancé, and two children, also on 24-hour watch, since Langsdorf's death Sunday.
The officers will be there until the funeral, which has not yet been announced.