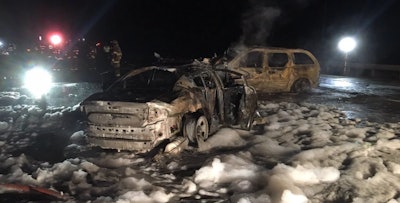 An Ohio State Highway Patrol trooper was critically injured, and a Good Samaritan and an alleged wrong-way driver were also hurt after a crash on Interstate 71 near Mount Gilead Thursday morning, reports WJW.
According to the Ohio State Highway Patrol, it happened at about 2:40 a.m. near State Route 95 along the Richland County/Morrow County line.
Trooper Jason Phillips was struck head-on by another vehicle traveling south in the northbound lanes while responding to reports of an impaired driver. The driver involved in the wrong-way crash, Michael Marchak Jr. 36, of Mansfield, was determined to be the same impaired driver Phillips was dispatched to investigate, reports WJW.
Both vehicles caught fire.
A Good Samaritan stopped to help after the crash and was also hurt. The person was flown to a hospital in Columbus.
According to OSHP, Trooper Phillips was flown to OSU Medical Center after the crash. Marchak was listed in critical condition at Ohio Health-MedCentral Hospital in Mansfield.