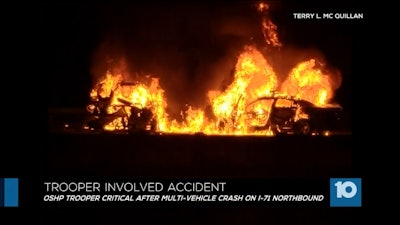 A trooper with the Ohio State Highway Patrol was badly injured when his patrol vehicle crashed head-on into another vehicle on an interstate highway on Thursday morning.
According to WBNS-TV, Trooper Jason Phillips was dispatched on the report of a possibly impaired driver on Interstate 71, when his vehicle was struck head-on by another vehicle. Both vehicles subsequently burst into flames.
Trooper Phillips, the other driver, and a Good Samaritan who stopped to help were all flown to a trauma center. The trooper and civilian driver were listed in critical condition. The Good Samaritan was treated and released.
According to OHSP, further investigation determined the vehicle being driven by the wrong way driver is the same vehicle Trooper Phillips was dispatched to investigate.