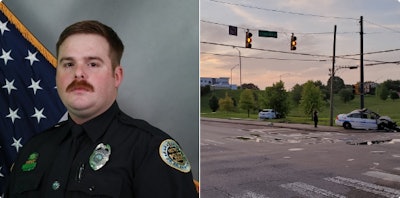 An officer with the Metro Nashville Police Department was killed in a crash with a fleeing suspect vehicle near downtown Nashville early Thursday morning.
The agency said on Twitter, "It is with extreme sadness that the MNPD confirms the on-duty death of Central Precinct Officer John Anderson."
In the very early hours of the morning his patrol vehicle was struck by a car driven by a 17-year-old girl identified as Jayona Brown.
Brown has been booked into juvenile detention on charges of vehicular homicide by recklessness, felony evading arrest, aggravated assault by recklessness, driving on a suspended license and juvenile curfew violation.
The 28-year-old officer was a four-year veteran of the force.