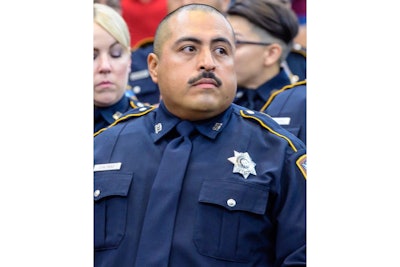 A 39-year-old Harris County, TX, Sheriff's deputy died Saturday morning after collapsing at the scene of a stabbing in northwest Harris County, the sheriff's office announced.
Deputy Omar Diaz died at 8:22 a.m. after EMS officials took him to the hospital and doctors were unable to revive him, Sheriff Ed Gonzalez said.
"Deputy Diaz served his community with honor and distinction," Gonzalez said in a statement. "The entire Harris County Sheriff's Office family is grieved by the tragic loss of our brother."
The incident occurred on Stone Pine Lane, where sheriff's deputies responded to reports that a woman was stabbed multiple times in a home near Cypress Ridge High School, reports the Houston Chronicle.
Diaz collapsed abruptly while laying out crime scene tape before regaining consciousness, Gonzalez said. He was coherent and able to speak with other deputies there, but fell out of consciousness again on the way to the hospital, the sheriff said.
It was not immediately clear what caused Diaz's death. The 10-year veteran of the Harris County Sheriff's Office leaves behind a wife and 7-year-old daughter.