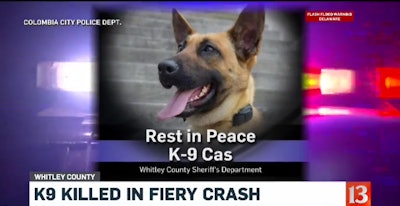 An Indiana sheriff's K-9 was killed in a fiery crash following a pursuit on U.S. 30 in northeast Indiana Wednesday.
State police say a trooper saw a vehicle that was reported stolen during an armed carjacking in Plymouth and began the pursuit. Other officers joined in the chase and a high-risk stop was attempted in Kosciusko County. The driver of the suspect vehicle pulled over and the passenger got out, but the driver sped off once again.
A Whitley County deputy stopped to deploy spike strips to deflate the suspect vehicle's tires, but the driver swerved to avoid them and struck the deputy's cruiser on the passenger side. The collision pushed the cruiser into the westbound lanes of traffic, where it caught fire, WTHR reports.
The deputy was not harmed. But K-9 Cas could not be rescued from the burning vehicle.
The suspect was not seriously injured.