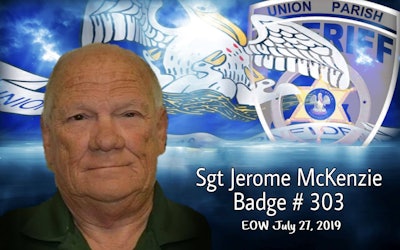 A deputy with the Union Parish Sheriff's Office died Saturday night due to complications from a heart attack he'd had earlier in July.
The agency posted on Facebook, "Sheriff Dusty Gates is saddened to announce the death of SGT Jerome McKenzie. SGT McKenzie suffered a heart attack while on duty on Wednesday, July 17, 2019, and drove himself to the hospital. SGT McKenzie passed away earlier this evening. SGT McKenzie has been a deputy for UPSO for the past twenty years and previously worked for Farmerville Police Department. Please keep the McKenzie family and the deputies of UPSO in your prayers as we mourn the loss of one of our own."
Deputy Jerome McKenzie had served in law enforcement for more than 40 years.