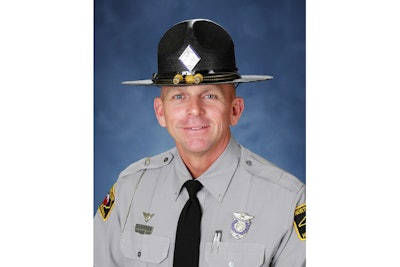 A trooper with the North Carolina State Highway Patrol who was involved in a collision during a vehicle pursuit is paralyzed from the neck down, Commander Glenn McNeill announced on Facebook.
Trooper Chris Wooten was on his motorcycle in pursuit of a vehicle when another car crashed into him in an intersection in Charlotte earlier in July.
The driver involved in the crash cooperated with police, and the driver of the vehicle Trooper Wooten was chasing—identified as 36-year-old Dontay Kilgo—was arrested and charged with assault with a deadly weapon on a law enforcement officer, felony flee to elude, and reckless driving.
"While we all have joined together in praying for a speedy recovery, I deliver this message with a very heavy heart," Commander McNeill said in the Facebook post. "Doctors have been monitoring Chris' recovery around the clock while providing the best medical care and attention for his condition. Unfortunately, after the performance of several medical procedures, which included surgery to fuse and decompress his C1-C5 vertebrae and stabilize the spinal column, it was determined that Chris suffered significant spinal cord trauma during the crash. At the moment, the surgeons are classifying the injury as a complete spinal cord injury at the top of the spine, which is resulting in paralysis from the neck down."
The post concluded, "My prayer is that God continues to provide comfort to Chris, the Wooten family and to every member of this amazing organization. We must continue to stand together to overcome the adversity we all share due to Chris' absence. May God continue to bless Chris, Sharon, their daughters, Kylee and Madison, and the entire Patrol family during this difficult time."