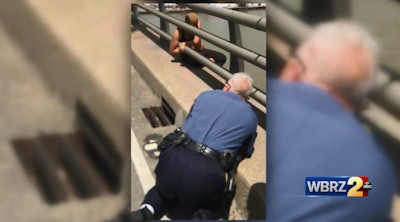 A lieutenant with the West Baton Rouge Parish Sheriff's Office is being lauded for saving the life of a pregnant woman who hopped the rail of a bridge 175 feet off the waters of the Mississippi River.
According to WBRZ-TV, Lieutenant Ken Albarez saw the woman jump the railing and approached her in an attempt to engage her in conversation.
During that exchange, Albarez learned that the woman was seven months pregnant.
For 45 minutes, Albarez spoke with the woman, who became increasingly despondent.
During that time, additional help had arrived, and when the woman briefly looked away, Albarez and others put her in restraints so she could not fall to her death.
The woman was transported to a nearby hospital where she is presently being treated.