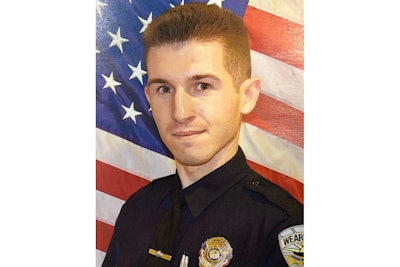 A Weare, NH, police officer shot last week while responding to a domestic violence call left the hospital Monday, grateful to be alive and for the outpouring of support he has received.
Officer William Paul Lewis, 27, was accompanied by two fellow Weare police officers, a New Hampshire State Police trooper, and his mother as he was released from Concord Hospital, reports the Union-Leader.
"The support has been 100 percent unbelievable," Lewis said. "It's really what is driving me to recover."
---
Related: New Hampshire Officer Shot at Domestic, Suspect Dead
---
Lewis, who goes by his middle name, Paul, said he had a four-hour surgery to repair damage caused by two bullets that had hit him in his right arm and passed through, damaging his biceps and forearm. He said doctors told him an additional surgery will be necessary to repair nerve damage in the arm, which was still swollen and immobilized as he left the hospital in a wheelchair Monday morning.
Lewis said doctors told him it could be six months, perhaps longer, for his arm to recover enough for him to return to duty, which he pledged to do.
"My longtime dream was to be a police officer. This isn't going to stop me," Lewis said.