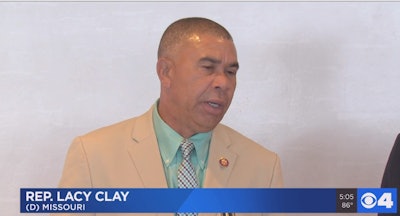 Federal law enforcement officers could use deadly force only as a last resort to prevent imminent death or serious injury under a bill to be introduced by Rep. William Lacy Clay of University City, MO, and some other House Democrats.
The measure also would require state and local governments to pass similar standards for their police agencies or face a cutoff of federal law enforcement aid.
"This new act ... changes the way that communities are policed," Clay said Friday at a news conference at the Renaissance St. Louis Airport Hotel. "Today we continue to strive towards making our country a more perfect union where black lives are respected and valued."
The measure, he said, would encourage police to use alternative methods of dealing with suspects and de-escalating potentially dangerous situations, the St. Louis Post-Dispatch reports.
Police generally "use care" when encountering the public, Clay said. He said most officers "could get behind this legislation because they know there are a few in their ranks that may be reckless ... in regard to life."
More than 20 other House members have signed onto the bill. The bill is called the PEACE Act, short for Police Exercising Absolute Care With Everyone.
The bill is endorsed by the ACLU and the NAACP. There is no date set on if the legislation will make it to the house floor for a vote, KMOV reports.