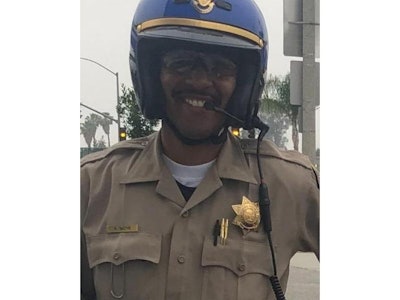 California authorities have identified the suspect in the Monday night slaying of California Highway Patrol Officer Andre Moye as Aaron Luther, 49. The Los Angeles Times reports that law enforcement has revealed that Luther, who was killed in a gunfight with responding officers, was an "active member" of the Vagos motorcycle gang. The incident occurred in the city of Riverside.
Moye and two other officers were shot in the battle with Luther, who reportedly pulled a rifle during a traffic stop while Moye was in his patrol vehicle filling out paperwork for impounding Luther's pickup truck. Although he was mortally wounded, Moye was able to call for backup.
Officers from multiple area agencies responded.
One responding CHP officer was critically wounded in the leg. CHP Inland Division Chief Bill Dance said the officer is expected to recover. Another CHP officer suffered a minor wound to his leg.
Luther reportedly has a lengthy criminal record dating to the late 1980s. He served 10 years for attempted second-degree murder. Riverside Police told KTLA Luther's criminal record included assault with a deadly weapon on a peace officer. His rap sheet also included convictions for disturbing the peace, vandalism, battery, stalking, unlawful possession of a firearm, and corporal injury on a spouse.
The suspect's motivation for the attack is not known. CHP says he had no active warrants.
The motorcycle gang Luther was allegedly involved with is considered one of the nation's largest and most dangerous outlaw motorcycle gangs, alongside the Hell's Angels and Mongols. The gang was founded in California in the 1960s but now claims 1,000 members in several chapters throughout the U.S., federal agents said in a 2017 indictment charging 23 Vagos' members with racketeering.
In that case, federal law enforcement targeted Vagos' members in California, Nevada and Hawaii alleging the gang had been involved in a number of brutal murders and beatings, as well as cocaine and meth trafficking.
The gang has a history of threatened violence against law enforcement. When Vagos' members suspected their Las Vegas chapter had been infiltrated by an undercover officer in July 2013, the group placed a $100,000 bounty on the man's head, according to the 2017 indictment, MSN reports.
Officer Moye had served with the California Highway Patrol for three and a half years. He is survived by his wife, mother, father, and siblings.