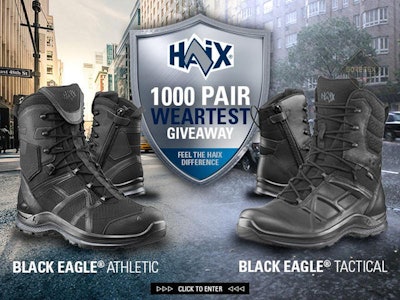 HAIX, a worldwide manufacturer of quality footwear for the law enforcement market, is conducting a contest to select 1,000 police officers to wear-test the company's Black Eagle Side Zip boots. Selected officers will receive a free pair of HAIX boots that they can keep.
The company says it is conducting this large wear-test because it wants officers to experience the "quality" of HAIX footwear. "What better way to do that than by giving 1,000 officers the chance to get a free pair of HAIX boots on their feet," a company spokesperson says.
"If you are a law enforcement professional, you know how important footwear is when you are spending long hours on the job. You want a high-quality pair of boots that not only offers ultimate comfort, but also long-lasting durability. Now HAIX is giving you the chance to try out a pair of HAIX law enforcement boots and to find out for yourself just how good a high-quality boot can be," the spokesperson adds.
HAIX wants each chosen participant to put the footwear through its paces. And then, after wearing them on the job for four weeks, give the company its feedback.
Each wear-tester must be over 18, active in the law enforcement profession, and be able to provide a wide array of testing scenarios in real-life situations. Wear testers must be able to fit the HAIX size range (4–13 in whole and half sizes and 14, 15, 16 for men). The HAIX Black Eagle line is a unisex line, so women should order one size smaller.
Wear-testers can choose from HAIX's two most popular models: the Black Eagle Tactical 2.0 GTX High Side Zip with Goretex or the Black Eagle Athletic 2.0 T High Side Zip without Goretex.
HAIX will provide all boots to the chosen wear-testers free of charge. Officers who receive the boots must agree to wear them on active duty for four weeks in September/October. Chosen participants must also tell HAIX how well the boots performed by the deadline of Nov. 20. Short, online wear-test feedback forms will be provided by HAIX to make this task easier. All wear-testers will get to keep their boots.
All feedback received from wear-testers will be provided to Police magazine so that the results can be published in a future issue. Wear-tester names and agencies affiliations will not be published.
To apply to be chosen as a HAIX 1,000 pair wear-test participant, follow this link to sign up between August 15 and 31 at www.haixusa.com/1000.