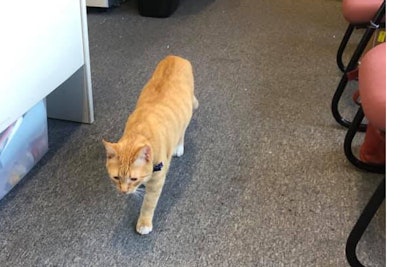 Many residents of the small town of Mocksville, North Carolina have their claws out over the sudden disappearance of the police department's pet cat and mascot from social media.
According to CBS News, the cat had garnered quite a significant following on social media, as officers and citizens posted images of the marmalade-colored kitten lying across officers' paperwork and striding amid the cubicles occupied by department staff.
With no word or warning though, the department deactivated the cat's Facebook page, which caused more than 50 people to gather in the Town Hall lobby to get some answers.
As it happens, the cat—affectionately known as Sergeant Butters—was removed from the department HQ over concerns about a pregnant employee who cannot be around cats, and the animal is now being cared for by a "friend of the department."
Officers rescued the cat in 2018 and nursed him back to the health and he had been allowed to stay in the police department's offices ever since.