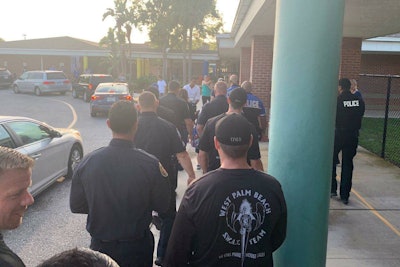 Officers with the West Palm Beach (FL) Police Department took time on Monday to escort the son of a colleague who succumbed to cancer last year to his first day of Kindergarten.
The agency posted pictures of the event on Facebook with the caption, "This morning we had the honor to walk Jake Nealy into school for his first day of Kindergarten. Jake's father, Sergeant Bill Nealy, was an 11 year veteran with our department who sadly passed away last year. Sergeant Nealy's wish was for us to be there for Jake at his first day of school. We love you Jake and we know you're going to have a great school year."
The officers say they plan on stopping by the school to have lunch with Jake from time to time, and some even hope to be there for him when he graduates.