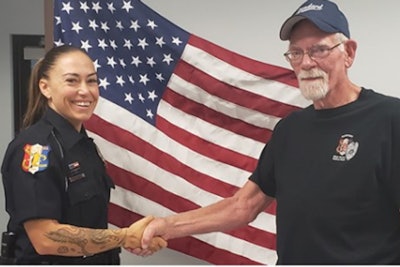 The Blue Grass (IA) Police Department welcomed its first female officer to the ranks in 40 years on Tuesday.
The agency posted on Facebook, "Today Mayor Larry Guy swore in Officer Misty Bunker. This is history in the making folks. Officer Bunker is the first female police officer in nearly 40 years to work for the city of Blue Grass. She will be starting her field training today. She is also a combat veteran retired from the U.S. Army who has a Bachelor's degree in exercise science with a minor in education. Please help me to welcome Officer Bunker to Blue Grass."
"It's good to have diversity in any public service profession," said Blue Grass Police Chief Garrett Jahns. "We're in a career where we deal with people in many diverse backgrounds and makes and models. It's good to have that equal amount of diversity in the police department for the people we serve."