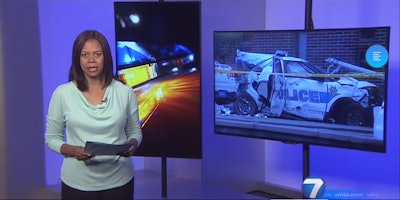 Two children in Dayton, OH, were killed and 10 other people were injured Monday evening when a man driving a stolen police SUV crashed into a van.
The man is suspected of stabbing his father in Dayton and fleeing to the town of Riverside in the victim's truck. He reportedly crashed the truck into a tree in Riverside and police responded. The suspect engaged officers, prompting one to use a Taser. The Taser was ineffective, Dayton Police Chief Richard Biehl told the Dayton Daily News.
Police says the suspect identified as Raymond Walter stole the police SUV during the confrontation and sped off back in the direction of Dayton, hitting several vehicles before plowing into the van in front of a Dayton public library.
The van was reportedly taking seven children home from a soccer game. Both of the children who died from the crash were six years old. Five other children were injured.
Police will seek murder charges against Raymond Walters, among other charges, Biehl said.