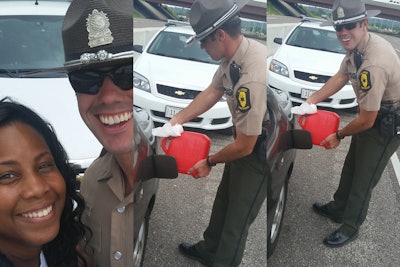 An Illinois woman took to social media on Wednesday to tell the tale of a heartwarming interaction she had several years ago with Illinois State Trooper Nick Hopkins—who was recently killed in the line of duty.
In a Facebook post, Cynthia Stanley recalled how one day in 2015 when she ran out of gasoline and was stopped on the side of the road, Hopkins came to her aid by taking her to a gas station, helping her get gas and a gas can, then filling her tank with the fuel she'd need to get to the station to fill all the way up.
"During this event he smiled the entire time and talked about his newborn twins and being a doting husband. He was excited about seeing his babies grow and being a husband to his wife," she wrote. "He shared some endearing moments and I never forgot him. I did the unpopular thing at the time and posted a picture that i took with him thanking him for his kindness."
She continued, "Over the weekend while working in the ER one of my peers was reading out loud an article about a state trooper that had been shot and killed while serving a warrant in Washington Park. My heart about sunk and my first thought was, 'Please don't let it be him. Please don't let it be him....' It was him. Tears filled up in my eyes as I continued to read the rest of the article. His twins are now 4 years old and he and his wife had a new baby. My thoughts and prayers go out to his wife and children as well as with the rest of the family."
She concluded, "This is beyond my understanding. He was one of the good ones just making a living like the rest of us and building a legacy for his family. His kindness will forever live within my heart and I thank him. Rest in peace #NicholasHopkins."
The Facebook post has been shared more than 38,000 times.