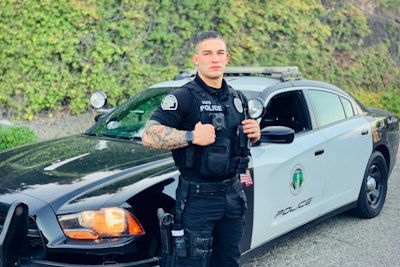 The Upland (CA) Police Department was trying to get the message across that the agency welcomes recruits with visible "sleeve" tattoos—which some agencies still refuse to consider—when they posted a picture on Facebook, but the online response was not exactly what they expected.
The agency was surprised that Officer Jake Waste attracted the passionate attention of many female Facebook members seeking to get a date—or more—with the tattooed LEO.
One woman said, "I've never broken the law but I'm thinking I'm going to start and make sure it's in Upland."
Another woman said, "I've been a very bad girl... Definitely need the handcuffs..."
Another said, "I feel like there are going to be a lot of speeding women in Upland."
There were some comments from area men as well.
One man commented, "Not sure if they are recruiting anyone but got a lot of single moms and housewives excited."
Another guy posted, "Thank you Officer Waste for making everyone leave these awesome comments! Brilliant marketing Upland."
For his part, Officer Waste is taking it all in stride.
He told ABC News, "I wake up and my phone is just blowing up."
He playfully added, "Do not come to Upland to break the law. It's not something you want to get involved in."