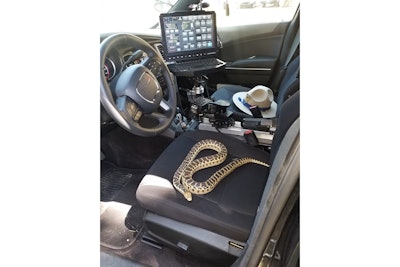 The California Highway Patrol—Fort Tejon-Grapevine Station—posted on social media an image of a gopher snake taking up residence in the driver's seat of a trooper's patrol vehicle.
The agency said on Facebook Tuesday, "As I was returning to my patrol car from a stop, I see this snake in my driver seat. I asked him what he was doing there. He paused and swallowed and said, 'Sorry about the delay, I had a frog in my throat.' I asked again what he was doing in my seat. He replied, 'I always wanted to be a civil serpent!'"
The image has been shared 3,600 times and received 1,200 comments.
One person commented, "Slip him into your sergeant's desk!"
Another said, "'Uh yeah dispatch my unit is on fire and just exploded.' Dispatch: 'What happened?' *Shows picture*"
Another said. "I thought snakes only rode in planes!?"