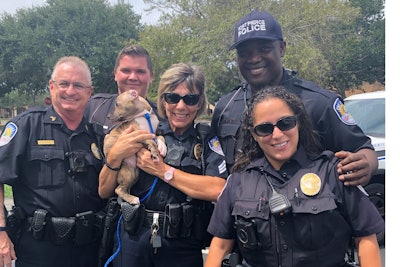 An officer with the Fort Pierce (FL) Police Department made the season's first hurricane rescue in the jurisdiction when he adopted a puppy that was too young to be placed in a shelter as Dorian loomed in the nearby Atlantic Ocean.
The agency said on Facebook, "Officer Martin Ortiz and Officer Michel Jean, while on duty awaiting the arrival of hurricane Dorian, responded to call involving a local resident, who reported she was unable to care for a puppy. The puppy, a Brindle Pittie, was only six weeks old and was too young to be left in a shelter cage until the storm passed. Officer Jean took an immediate liking to the pup, called his wife and showed her and the rest of the family the puppy via FaceTime."
Officer Jean's family—especially his son—immediately fell in love with the dog and agreed that they should adopt the animal.