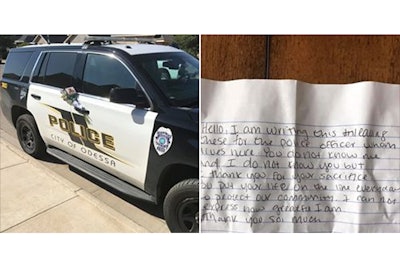 An officer with the Odessa (TX) Police Department took to social media to thank a woman who left a kind note of gratitude for his service and the service of his fellow officers to their community. Odessa was the site of a mass shooting late last month.
Officer Gary Potter—who has served 24 years with the department—posted images on Facebook with the caption that read, in part, "I found these cool water and moonwalk roses left on my patrol car this morning along with a beautiful handwritten note."
The woman's note read, "I do not know you and you do not know me but I thank you for your sacrifice. You put your life on the line everyday to protect our community. I cannot express how grateful I am. Thank you so much."
Early last week, Officer Potter got the opportunity to meet the woman—Bria Montes, an employee at a local hospital who witnessed firsthand the terrible carnage of the mass shooting that left seven victims dead and 25 others wounded. Three law enforcement officers were wounded in the incident, and the gunman was killed in a firefight with Odessa officers.
Potter said in his social media post, "Thank you Bria Montes for this small act of appreciation. It means more to me than you can ever know."