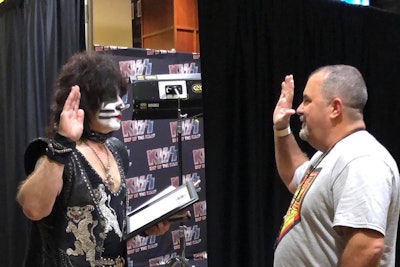 Legendary KISS drummer—and longtime friend to law enforcement—Eric Singer was sworn in as an honorary corporal with the Wharton (TX) Police Department prior to the band's performance in nearby Houston.
The agency posted images of the ceremony on Facebook, saying in part, "On behalf of Chief Terry David Lynch, and the men and women of the Wharton Police Department, we appoint you to the rank of Honorary Corporal with our department, in grateful acknowledgement of the honor and respect you show all of America's dedicated law enforcement heroes and their families."
The post continued, "The Corporal badge presented to you today has been selflessly worn by many within our department and today, it begins a new chapter with you. We ask that you display it proudly as it represents our commitment to protect those who call on us in times of danger, and in remembrance of the nearly 24,000 officers who have paid the ultimate sacrifice since 1791."