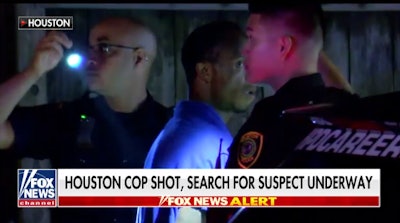 An officer with the Houston Police Department was seriously wounded and a suspected gunman is dead following a gunfight in Houston Thursday night.
According to Fox News, the 29-year-old officer—a five-year veteran whose name has not been released—suffered multiple gunshot wounds in the gun battle with four robbery suspects who allegedly stole a man's Chevy Tahoe at gunpoint, then abandoned the vehicle and fled on foot.
Soon thereafter the men robbed a priest at gunpoint, took his cellphone and fled the scene, police say.
Police located the suspects, and one was taken into custody while another opened fire, eventually striking an officer, police say.
The officer was transported to a nearby hospital. Houston Police Chief Art Acevedo said at a press conference Friday morning that the officer is now in stable condition after undergoing surgery that lasted several hours, .