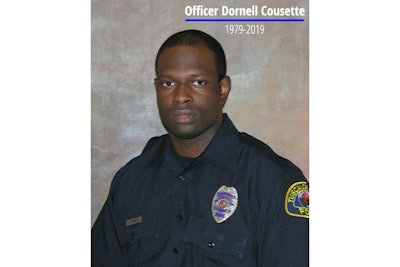 An officer with the Tuscaloosa (AL) Police Department was shot and killed in a gunfight with a man wanted for failing to appear on prior felony charges, authorities say.
According to NBC News, 40-year-old Officer Dornell Cousette was called on Monday evening to assist in the apprehension of a man. Interim Chief Mitt Tubbs said at a news conference that Cousette exchanged gunfire with a suspect inside a house and the officer was fatally shot.
Authorities said Luther Watkins Jr., 20, is charged with capital murder in Cousette's death.
"An investigation has determined that Investigator Cousette was murdered while attempting to lawfully arrest Luther Watkins," said Lt. Jack Kennedy of the Tuscaloosa Violent Crimes Unit.
Kennedy said the suspect was also struck by gunfire, transported to a nearby hospital, and subsequently taken into custody. He was being held without bond.
Cousette is survived by two daughters and a fiancee.