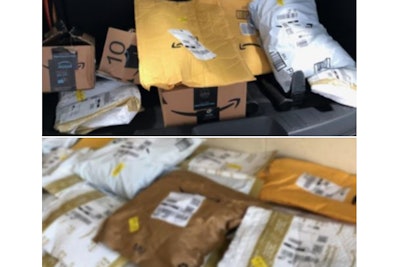 After a stash of delivery boxes from online retailer Amazon were found in a Burlington, MA, cemetery, responding officers set about the task of delivering them to their intended destination.
The agency posted images of the wayward packages on Facebook, saying, "It appears that a number of Amazon Packages were dumped in one of their garbage disposal bins. We are investigating to see how they wound up there. We have notified Amazon.com and are waiting for them to respond."
The post concluded, "To ensure that everyone gets their merchandise in a timely fashion (and without too much red tape!) we are delivering the packages to the proper addresses. If you see an officer delivering your packages say hello!"