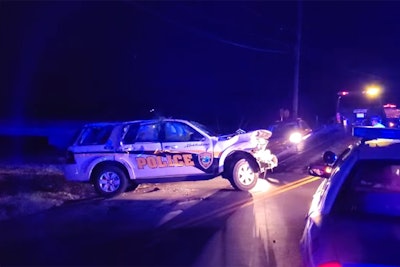 A lieutenant with the Middlesboro (KY) Police Department was involved in a rollover accident when he swerved to avoid striking a bicyclist who suddenly darted out in front of him while engaged in a vehicle pursuit on Tuesday.
According to the Middlesboro Daily News, Lieutenant Floyd Patterson was assisting in the pursuit of a pickup truck when the cyclist entered his path. His patrol vehicle left the roadway, crashing into a guidewire and utility pole, causing the SUV to flip over.
Patterson was transported to a nearby hospital where he was treated for minor injuries and released.
The bicyclist reportedly left the scene.
Image courtesy of the WRIL Radio / Facebook.