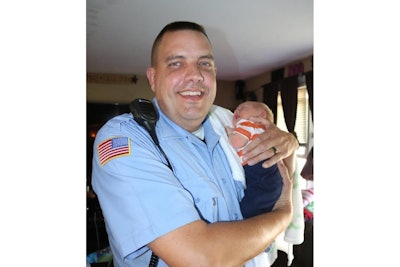 In early September, Officer Greg Fritz of the Pottstown (PA) Police Department helped two medics deliver a baby boy, unwrapping the newborn's umbilical cord from around his neck.
The officer was recently able to visit with the family and meet little baby Weston under far happier circumstances.
The department posted pictures of the reunion on its Facebook page with the caption, "On Sunday September 8, Officer Fritz got to help deliver a baby. Officer Fritz responded to a medical call and found a mother in labor. He needed to unwrap the baby's umbilical cord from around its neck and delivered the baby with the help of Paramedics Harper and Macaluso. They were recently all happy to meet Baby Weston."
Image courtesy of Pottstown PD / Facebook.